Divisional Review Meeting of Excise department and Law and Order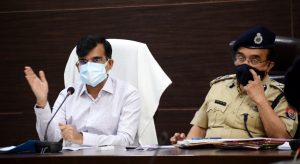 Instructions given by Divisional Commissioner to ensure that mafias and their family members/relatives do not get liquor licenses.
The Excise department, DGC and Police Department should work with better coordination for effective prosecution of liquor mafias, he said.
The Divisional Commissioner, Shri Sanjay Goyal, took a divisional review meeting of the Excise department as well as of Law and Order at Gandhi Auditorium on 13 July, in which he asked the officers to develop a better background-check system to ensure that persons with criminal background as well as their family members/relatives do not get the liquor licenses. Emphasising on the need to prevent such people even from applying for the licenses, he said this can be done by tracing the family links of all criminals more seriously.
The Divisional commissioner suggested that the Police and the Excise Department officials can also commence a joint exercise to trace the links of criminals with their relatives by cross-checking the bank details of all criminals/suspected persons. He said it could become a new kind of investigation process that could help the investigating officers to establish relationships effectively.
While reviewing the district wise list of illegal liquor mafias of the division, Shri Goyal emphasized on the need to increase the conviction rate of notorious criminals, especially history-sheeters and directed the Excise department to work together with DGC and the Police Department towards the improvement of conviction rate. The Divisional commissioner also reviewed issues related to land mafias and asked the concered officers to update details of all disposed cases (where investigation has been done) on the portal.
During the meeting, Inspector General of Police, Prayagraj, Shri KP Singh, suggested that in order to make enforcement work more effective at district level, there is a need to appoint nodal officers who could facilitate better coordination between the departments. For strengthening the background-check exercise, Deputy Inspector General of Police, Prayagraj, Shri Sarvashresth Tripathi suggested that the officials should make use of UP's Crime and Criminal Tracking Network and Systems (CCTNS) to find details of criminals and establish links with their relatives. He also suggested that officials should apprise the courts about the background of all history-sheeters on a regular basis to enhance the conviction rate.
District Magistrate, Pratapgarh, Shri Nitin Bansal, District Magistrate, Prayagraj, Shri Sanjay Khatri, District Magistrate, Kaushambi, Shri Sujit Kumar, District Magistrate, Fatehpur, Smt. Apoorva Dubey, Superintendent of Police, Nagar, Shri Dinesh Kumar Singh along with other officers were also present in the meeting.